Lindsay is hosting a 5$ redecorating challenge. You won't believe some of the great ideas for decorating with 5 bucks. I have linked up at
Living With Lindsay
to show off the $5 re-do of my living room.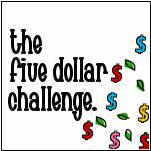 Actually, I came in Under Budget! (I WILL be reminding Bill of this frequently!!!)
When we first moved in 7 years ago I loved the Ralph Lauren red...
But I was ready for a change!
I had an old bucket of paint from when we had first moved in. It has been stored in the garage, so was still in perfect condition in it's original paint can. I took it back to Home Depot and asked them to shake it up (I will admit that I didn't mention that it was 7 year old paint) I had brushes and a roller from a previous project.
Taa
~
daa
!
I like the lighter color so much.
All it cost was $3.00 for a new bottle of
Aleve to get me moving in the morning
.
That is what you call Free-Styling.
Now, my next project may not be so under budget!
Sandi